The Artist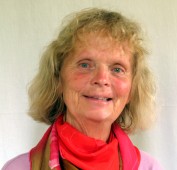 Something useful?
I have been making patchwork pictures since the beginning of the 1980's. I started originally with ceramics, but partly because I missed the colours and partly because it was rather more acceptable to sit at the living room table and sew - nobody could see whether it was anything useful - I began making patchwork.
First exhibitions
In the beginning I didn't take it seriously, just sewed for the fun of it, didn't show it to anyone. Then - at a time when I had between 20 and 30 pictures - a good friend discovered them and this lead to a series of exhibitions.
Most of them have a sewing machine . . .
My hope is that by exhibiting I can give other women courage to exploit their own creativity. Most of them have a sewing machine and some remnants of material - no need to invest in expensive gear.
The art of survival
For me it is 'the art of survival'. Without my pictures I would go to pieces in the monotony of everyday life. Material is bought at flea markets or it arrives as gifts. Faded, well-used cottons are fascinating and nice to work with.
How I go about it
Most of the pictures have a purpose and have been months in the making. I never draw them but plan them thoroughly in my head before cutting out and fastening with pins. Then follow days or maybe weeks where I move colours and figures around before I begin to sew. Often it takes a long time from the first idea of a picture until I get started on it. It can be difficult to find the proper material in the right colour.
Is it art?
I have not had any artistic training and was brought up to be the practical one in a creative family, which needed to get the washing-up done. Are my pictures art or not? The question is frequently asked. For me, it doesn't matter what they are. I make them for my own sake, hoping all the same that you will also like them.
---
Juried exhibitions
Wonders of the World, European Art Quilts VI, SAQA Art Meets Science, 4th European Quilt Triennial, SAQA Reflections, Carrefour Européen du Patchwork, Stretching Threads Across Florida, SAQA The Sky's the Limit, World Quilt and Textile on Tour, Berlin-Brandenburg Patchwork Treff, Hands All Around, Quilt Expo X, Husqvarna Viking Gallery of Quilt Art, New England Quilt Museum, Art Quilts X
Exhibitions outside Denmark
Nadelwelt, Karlsruhe, Germany; OEQC, Veldhoven, Holland; The Nordic House, Thorshavn, Faeroe Islands; Ruthin Craftcenter, Wales, UK; Gallery Oriel, Welshpool, UK.
Exhibitions in Denmark
I have exhibited in museums, galleries, town halls, colleges, libraries, businesses, cultural and educational centres, parish halls and community centres.
Workshops
I give workshops on the sewing techniques and methods I use, and talks on my life as a quilter.